Thu, June 11th
from 6PM-9PM ONLINE via Zoom Webinar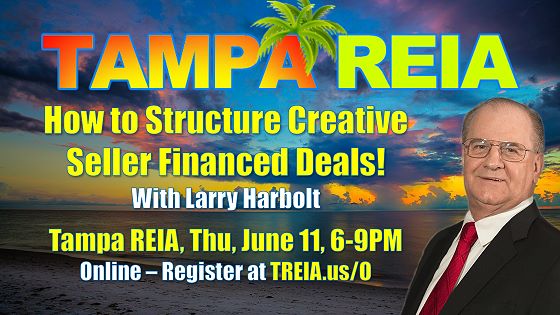 How To Structure Creative Seller Financed Deals
with

Larry Harbolt
Savannah REIA Members Can Attend at NO CHARGE.
Non-Members for $15. Register at TREIA.us/O.

Welcome everyone. I hope you will be joining us at Tampa REIA is meeting Online via Zoom Webinar on Thursday, June 11th at 6PM-9PM with Larry Harbolt will be sharing how you can buy real estate without banks using creative seller financing, even if you have no cash or cred. REGISTER NOW!
Larry will share with you how to structure an type of creative deal with creative financing options only available to those investors who know the secrets seasoned investors don't want you to know.
Once you hear what Larry has to say, you thinking you have to get bank financing will be a thing of the past. Larry will share multiple deal structures with you to help even the most novice investor structure creative deals other investors wouldn't have a clue how to do and would walk away simply because they won't see the same opportunities as the trained eye you will have after Larry shares his simple and easy to use ideas, strategies and techniques.
Let Larry show you how to create $3,000 to $10,000 paychecks within the first 30 days in business without ever having to step into a Bank and beg for a loan. Larry will show you how to make money in today's market even if you personally have no money and less than good credit, and even if you are currently bankrupt.
Here is some of what you will learn at the Tampa REIA Online Meeting on June 11th and the Creative Deal Structuring Workshop on June 13th:
How to, eliminate risk in your life and the need for CASH while you are creating a $3,000 to $10,000 per month income stream without tenants.
How to attract only the most motivated sellers to call you.
How to, pre-screen seller's so you can deal with only the cream of the crop.
How to make sure your repair costs never exceed your estimates.
How to, make quick cash on run-down houses without ever hiring a contractor or doing any repairs.
A step-by-step, connect-the-dots procedure to find, pre-screen, make offers on, and quickly sell low priced houses needing repairs.
A step-by-step guide through the art of making an offer on a single family house
How to attract a long list of cash customers eager to buy your junker's.
Four simple questions to ask each potential buyer so you can build a list of people ready to snap up every property you have.
How to, quickly estimate repairs so you can spend your time making offers, not wasting your time on unprofitable details.
How to fill out a purchase and sale agreement in any city or county in the United States to get more offers accepted and eliminate resistance from sellers.
How to get the seller to put money into the deal and not charge you a penny for the service!
How to structure the financing so you can pass the house to your buyers without qualifying them for a loan!
How constructing three or more separate offers on the same house, practically guarantees your deal will be accepted on your terms, the first time.
How to take advantage of a rarely used technique known as "split funding", and cut your cash outlay down to little or nothing on every deal you make utilizing this simple method.
How to use the wrap-around mortgage to buy and sell and why the wrap-around mortgage should be in every real estate entrepreneur's tool box.
How to get motivated sellers to call you with houses no other investors know how to buy with one little known secrets.
How to, eliminate banks from your life forever so you'll never be at the mercy of a loan committee.
How to create the most flexible financing there is with no personal liability.
How to create immediate income, monthly cash flow, and a final payday all from the same deal!
Why the due-on-sale clause is the best thing that ever happened to real estate investors and why conventional wisdom thinks it's the worst.
Low-cost marketing techniques to attract motivated sellers to call you and pre-screening tools so you only deal with the most motivated of the batch.
The secret question you need to ask every seller to get to their bottom line price instantly.
How to, structure your sale to create enormous incoming payments and cash flow and eliminate defaults and risks.
How to, attract dozens of motivated buyers who can't qualify at the bank, but are excellent prospects for your no qualifying financing.
The most common mistakes all investors need to avoid when buying and selling.
How to calculate the numbers of every deal so you never over-pay for any property.
And Answers to all your creative deal structuring questions.
If this sounds like a lot of information to cover during Tampa REIA Online Meeting on June 11th, you are right. That's why Larry has scheduled a follow up Creative Deal Structuring Online Workshop with us on Saturday, June 13th from 9AM to 5PM to cover this information in much more detail.
So please REGISTER NOW to join Larry at the Tampa REIA Online Meeting on Thursday, June 11th and again all day at the Creative Deal Structuring Online Workshop on Saturday June 13th to learn how to profit from real estate in ways you probably haven't heard of before. This will be two information packed events like you have probably never experienced, giving you ideas only the seasoned investor would know and have kept secret for decades.
Savannah REIA Members can Register Online and attend our Tampa REIA Online Meeting event at NO CHARGE and Non-Members can Register Online for $15!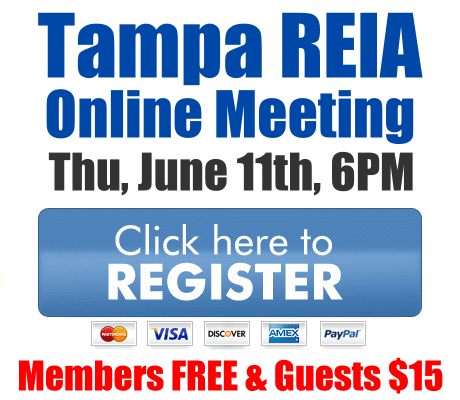 *Meeting Day Agenda
*Please Note: Meeting agenda is subject to change.
The Meeting Before the Meeting
What You Should be Focusing on in the Next 6 Months
with

Don DeRosa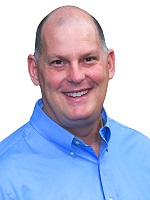 Join Don DeRosa every month at 6PM SHARP at our Meeting-Before-the-Meeting that we like to call the High Tech Home Buying Creative Deal Structuring Subgroup that meets one hour BEFORE the Tampa REIA Main Monthly Event.
Join us at the Meeting-Before-the-Meeting each month where Don will teach you about different real estate investing purchase and sale strategies to put more money in your pocket as as well as state-of-the-art tools and techniques you'll use to evaluate deals and figure out how to make them work. You'll learn to work less and earn more so you can spend more time where you want, when you want and with whom you want.